Dr Vinod Pachade: Leading Plastic & Cosmetic Surgeon In Navi Mumbai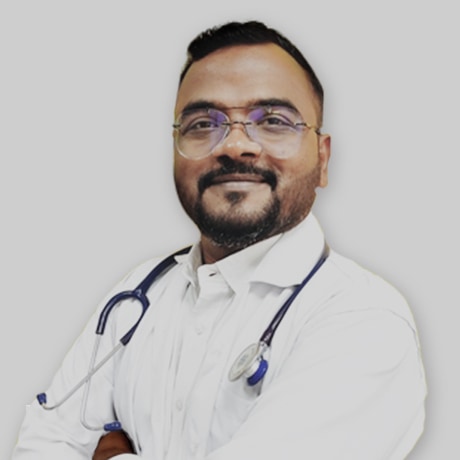 Dr. Vinod Pachade is the founder and director of the PVR Aesthetica Cosmetic Surgery Center. He is the member of Association of Plastic Surgeons of India (APSI) and also the winner of Asia Book of Records.
He is a renowned plastic/cosmetic surgeon in Navi Mumbai. He specialises in :
Empathetic and detail-oriented professional with great hand dexterity and broad experiencein performing plastic and cosmetic surgical operations and ensuring the delivery of best treatments available to patients. Proven track record of performing emergency and routine surgeries, conducting ward rounds and surgical demonstrations, delivering lectures, and handling administrative activities.
Expert in facilitating patients in care, comfort, and support to promote, improve, conserve, and restore the mental / physical well-being of personnel. Well-versed in maintaining a safe, secure, and healthy patient environment by following standards and procedures.
Dynamic and reliable individual with a great combination of compassion for healthcare industry. Possess excellent communication and interpersonal skills to collaborate and understand personnel needs for complete satisfaction.
Qualifications and Experience
Qualification & Expertise
Plastic & Reconstructive Surgery
Clinical operations Management
Patient Service & Support
SOPs &Regulatory Compliance
Maxillofacial Reconstruction
Cosmetic Surgeries & Ward rounds
Administrative Operations Handling
Compassion & Collaboration
Key Relationship Management
Empathy & Communication
M.B.B.S
Krishna institute of medical sciences karad satara
M.S.
Topiwala National Medical College and BYL Nair Hospital Mumbai
M.S. (Gen. Surgery), DNB(Gen. Surgery)
M.Ch.
Grant Medical College Mumbai
M.Ch. (Plastic Surgery), DNB(Plastic Surgery)
Registration
Registered with Maharashtra Medical Council affiliated to Medical Council of India
2017- Till Date
MPCT Hospital Navi Mumbai, D.Y PATIL Hospital Nerul Navi Mumbai Consultant Plastic and Reconstructive & Cosmetic Surgeon
Highlights:
Spearhead the overall management of plastic reconstructive and cosmetic surgeryin and outpatient department, including head, neck, and breast reconstruction with free microvascular flaps
Conduct multiple surgeries pertaining to breasts, such as implanting, tightening, and reduction of breasts while handling Liposuction and facial cosmetic procedures in a safe and proficient manner
Handle complex maxillofacial injuries as well as perform various reconstruction of traumatized extremities, including vascular and nerve repairs
Operate a personal clinic as a Founder and Director of PVR Aesthetica Plastic Cosmetic Surgery and Laser Clinic Navi Mumbai
2016- 2017
Topiwala National Medical College and B.Y.L. Nair Hospital Mumbai Central Mumbai
Super-Specialty Medical Officer in Plastic and Reconstructive Surgery
Highlights:
Steered the overall management of inpatient surgical wards, outpatient clinic, surgical emergencies, as well as trauma and orthopedic emergencies
Performed emergency and routine surgeries, delivered lectures, and conducted ward rounds and surgical demonstrations while mentoring postgraduate residents on academic activities, including seminars, case reviews, and university researches
Oversaw clinical and operative work trainings and monitoring performance of postgraduate residents as well as design, execute, and audit multiple departmental activities for students, such as CME programs
Supported in various administrative operations, organizing teaching and examination schedules for undergraduate and postgraduate students and providing coverage to domestic and global dignitaries visiting the State of Maharashtra.
2015- 2016
Grant Medical College and JJ Group of Hospitals,Mumbai Senior Registrar in Plastic and Reconstructive Surgery
Highlights:
Conducted multiple successful surgeries independently pertaining to Maxillofacial Reconstruction for Cosmetic / post Traumatic Deformity, Head and Neck Malignancy Reconstruction, and Micro Vascular Surgeries, including Free Flaps in Post-Traumatic/ Post Malignancy Reconstruction.
Played vital role in performing Cosmetic Surgery for Face lift, Blepharoplasty, Breast Augmentation / Reduction, and Abdominoplasty.
2014- 2015
Grant Medical College and JJ Group of Hospitals, Mumbai Senior House Officer
Highlights:
Earned hands-on training for multiple Plastic Surgery techniques and operations, such as Maxillofacial and Plastic Surgical Trauma, Revascularization of limbs, and Nerve injuries repairing.
Facilitated in evaluating and resuscitation of critically ill patients, treating Post Traumatic Wound, and Reconstructing Post Burns Deformity with Skin Grafting (STSG/FTSG), Local, and Regional Flaps.
2013- 2014
Grant Medical College and JJ Group of Hospitals, Mumbai Senior House Officer
Highlights:
Induced complete knowledge of basic Plastic Surgical techniques, Ward Procedures, Plastic Surgical emergencies handling, including Vascular, Nerve injuries, Face and Hand Fractures, Acute Burn patients, and Tendons repairs
Played an instrumental role in outpatients and indoor surgical patients management to promote an empathetic and caring environments for patients.
2012- 2013
ESIS Hospital Worli Mumbai Specialty Consultant in General Surgery
Highlights:
Administered various multidisciplinary duties with exceptional proficiency during this compulsory government bond service.
2012- 2012
Topiwala National Medical College and B.Y.L. Nair Hospital Mumbai Central Mumbai
Senior Registrar in General Surgery
Highlights:
Successfully completed structured three years' residency programme in department of general surgery.
Performed independent surgeries and delivered lectures to undergraduate medical and nursing students by proving strong medical knowledge and time management skills.
Inguinal Hernioplasty open or laparoscopic? Imperial Journal of Interdisciplinary Research (IJIR) Vol-2, Issue-5, 2016 ISSN: 2454-1362
A rare case of retroperitoneal cyst with adenocarcinoma case report; Innovative Journal of Medical and Health Science 6:6 November – December (2016) 1 – 2.ISSN 2277-4349
Comparative Study of Different Modalities of Management of Hand Fractures International Journal of Contemporary Medical Research 2017; 4 (4):973-976. ISSN: 2393-915X; (Print): 2454-7379 | ICV (2015): 77.83 Volume 4 | Issue 4 | April 2017
Reliable inclusion of proximal calf in standard reverse sural flap for ankle and foot reconstruction…………in peer review in Indian journal of plastic surgery.
Professional Achievements And Awards
4th rank in state level final M.Ch. plastic surgery examination conducted by MUHS Nasik.
Winner of Asia Book of Record & India Book of Record for largest free micro vascular flap in forearm reconstruction.(2019).
Oral presentation of study of 18 patients of ankle and foot defects with reverse sural flap with inclusion of proximal calf
APSICON 2015.
Unit Audit Work: Maintenance of Unit log register, operative register, presentation of audit report.
Clinical Meetings: Representation of my surgical unit in audit meetings, monthly morbidity and mortality meetings and other
multidisciplinary clinical meetings.
ISAPS COURSE INDIA (2019)
ISRM (2018)
Research methodology workshop (2015)
Flap dissection course Nair hospital (2014)
Burn Update National Burn Centre Airoli
Communication skills workshop
BREASTCON (2012)
MASICON (2011)
Overview On Gynecomastia Treatment With Zee 24 Taas
Book Your Consultation With Dr Vinod Pachande
I consulted Dr Vinod for my hair fall problem.he suggested me to take hair nutrients and PRP therapy. After undergoing 3 sitting of prp my hair fall has completely gone and now my hairs are normal growing..... thanks to PVR aesthetica Highly recommend
I had a great experience with PVR undergoing Hair Transplant...I would suggest Dr. Vinod as a best person for all kind of aesthetic treatments and surgeries.
Successfully operated and removed the cyst over my chin, excellent treatment and a very professional and caring approach by Doctor Vinod Pachade
Global Business Award Mumbai 2022
Dr. Vinod Pachade Awarded As The Best Hair Transplant & Plastic Surgeon Mumbai
The Asia Book Of Records Award
Successfully operated a patient with the largest ALT free flap along with a team of four doctors on November 13, 2018.